Manage your downloads
Recommended by Video DownloadHelper


Vidine, a combined Media center and video clip manager
Build your private thumbnailed video collection from downloaded videos as well as your own. Vidine is the perfect complement to video download helper and gives you easy access to all your video clips.
For Windows Vista, 7, 8, 8.1 and 10.
Install Now!
Your own private video library
Get organized with all your videos in on place. Adding videos is easy, fast and automatic. You can browse all your videos straight from the program regardless of where they are stored. You can start playing videos straight from the shown thumbnails. Vidine lets you explore and enjoy your private video collection like you have never done before.
Take the time to make up your own mind about the software.
Once you have tested Vidine I am pretty sure you are not going to want to be without it. So sure that I will let you test it at minimal risk. You get the fully unlimited version and have plenty of time to actually see if I can live up to all the promises on this page.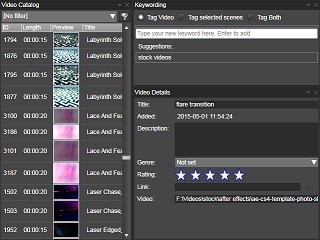 Collect and Organize
Quickly transform your video chaos into one catalog that is in order. Build and enrich your own private Collection over time. Vidine can handle really large Collections of more than 20000 videos with ease. You will never loose sight of your valuable videos regardless of where they are stored if you have them in Vidine.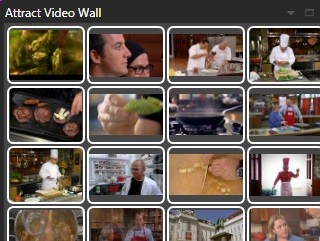 Explore and Discover
Exlore your video collection to rediscover lost memories and videos you had forgotten about. With Vidine you can always find the video scenes you are looking for and be surprised by treasures that are hidden deep within your video collection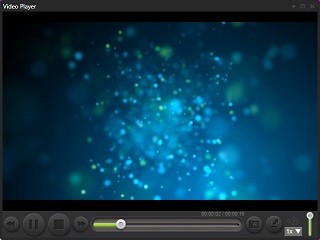 Experience & Enjoy
Experience your video Collection by letting Vidine present Actors and Videos in one of the presenter windows. Vidine comes with several windows made for you to simply enjoy your video collection as you sit back and relax.
Professional Quality
The Vidine name is new but the Vidine software has been Developed over many years for video professionals under a different name and is now finally available for normal people like you and me. With Vidine you will have access to all your videos in one a searchable and visualized catalog. The program will index and extract thumbnails from your videos to give you a great Visual overview. As you are browsing your Collection you can easily add tags to videos to build your catalog into your personal video archive. Its almost like having your own large custom video web site only it will be much faster to build and use.
Personal and Private
Vidine does not store any data on any remote server. It does not even require an internet Connection to load your personal video collection. We generally think it is a bad idea to store your own videos away from your computer since its slow, unsafe and really unneccessary. Your videos could get in the wrong hands on the way to the server and honestly, who knows for how long the Company operating the servers will be in the server business.
No subscription
Vidine is offered as a Buy once and own software, no sneaky subscription. You buy the software once and you can continue to use it on your computer to build your video library as long as you like.
Optimized for Video
Vidine is Optimized for Videos – all features are made for video. It does not support building book Collections, game Collections or Music Collections. However you can build any type of video Collection. It it not only for feature length Hollywood movies or TV series like so many other Collection softwares. Vidine is made for video clips regardless of where you get them, recorded from your PC or skype session, from your phone or tablet, camera or camcorder, from the internet or from somewhere else.
Optimized for Windows PC
Vidine is written exclusively to run local on your Windows PC. By targeting Windows and no other operating systems we don't have to waste performance on platform abstractions and can use the fast native Windows APIs. The program is written to run on your local computer and not in the cloud, running local will Always be faster than in the cloud. Vidine has been developed and profiled over several years and the performance demanding parts of the program is written in C++, the computer languages used to write operating systems, real time systems, games and other high performance systems. Vidine will make use of modern PCs built in multiple Core CPUs to run jobs in parallel. vidine even makes use of your Graphics card for the ui.
Features
Video indexing
Solid automatic thumbnail extraction, developed and improved for over 10 years
Batch extract thumbnails from whole folders with videos
Add shared meta data like keywords and actors when adding
Browse Videos
Browse videos in detail or Icon mode
Select favorite thumbnail for each video
Performance
Optimized for performance, time critical code is written in c++. Uses multiple cores and gpu
Integrated video player
Play straight from Video Thumbnails
Video formats supported through DirectShow
Play in Fullscreen or windowed
Play Slow / Fast / SingleFrames (Depending on codecs)
Save as jpeg screenshot
Custom layouts
Design and switch between custom layouts to make the program suit you
Use one or multiple monitors for your layout
Layout saved between program runs
Search
Set keyword to videos or specific frames in the videos
Search and show video frames across multiple different videos
Actors
Build a library of actors in your video catalog with portraits
Keyword actors, add actor images and portraits
Search videos by casts
Companions images
Add covers to your videos
Add other companion images to your videos
Video file manager
Integrated filemanager similar to windows Explorer
Moved/deleted files are updated to your Collection
Maintanance
Find videos/images in your catalog that has been deleted
Updated changed paths to videos
Discover new companion images
Archive
Archive videos seldom accessed to other media while keeping them browsable in your catalog
/Fredrik Lönn – Author of Vidine